Surprise Squad: Mother Helps Daughter
A local Greenville mother was encouraged by the Fox Carolina Surprise Squad at the Meyer Center. Her daughter, Brynley, is a six-year-old with special needs and a big heart. The Surprise Squad presented her with a donation to help with medical expenses.
Junior Board of Directors 2023 Kick-off
United's executive leadership joined our Legacy Early College Junior Board of Directors in Greenville for the 2023-2024 Kick-Off at Legacy Early College High School. Scholars on the Junior Board had the opportunity to ask leadership about financial tips, career advice, and the banking industry during their time together.

The Junior Board program was created in 2005 and continues to be a successful initiative in 12 of our bank communities. The purpose of the program is to introduce outstanding high school upperclassmen to the local business community by providing them the opportunity to lead various community service projects while representing United.​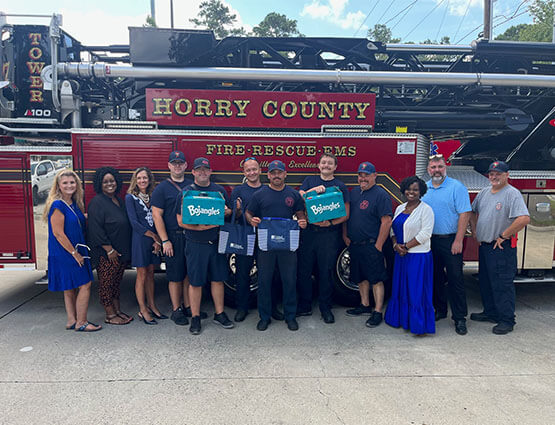 9/11 National Day of Service 2023
In honor of the attacks of September 11, teams across our footprint participated in service projects honoring first responders. In addition to these acts of service, the United Community Bank Foundation has made a total of $25,000 in donations to local organizations that support first responders.
Surprise Squad: Local Mom Making a Difference
Robyn Smith, a local Greenville parent, was surprised by the FOX Carolina Surprise Squad! She is the founder of the Selah Grey Foundation, a non-profit organization serving to create a space for children with disabilities and families who are fostering or adopting. Named after her daughter with a rare disability, the Selah Grey Foundation helps to fill the gaps for children who may feel they don't have a place.
Surprise Squad: Upstate Couple Starts Nonprofit to Help the Homeless
The FOX Carolina Surprise Squad recently spoke with Redd and Cassandra Martin about their non-profit, Sunday Dinner. This organization feeds over 150 people dealing with homelessness with a hand delivered meal on a weekly basis in downtown Greenville!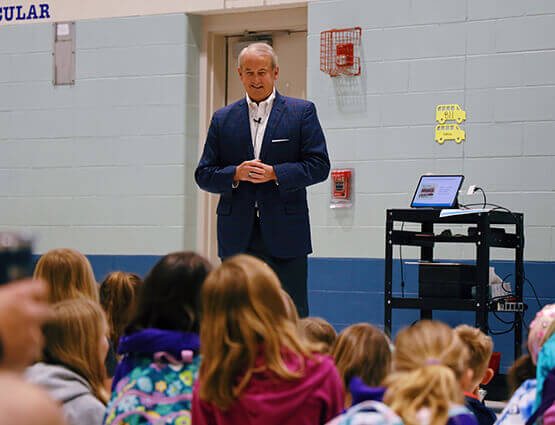 Financial Literacy Month
April was Financial Literacy Month! Throughout the month, United employees led financial literacy workshops, read to classes about saving money, created educational displays in their branches, and more!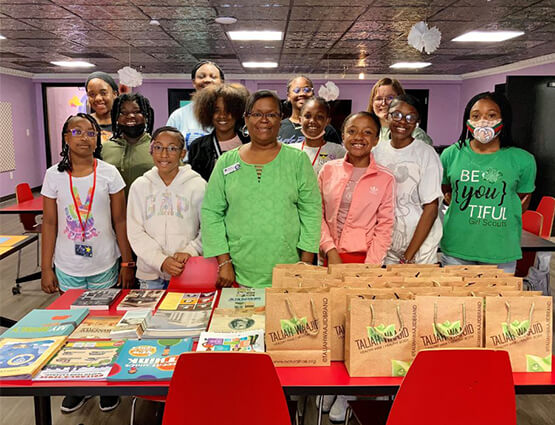 Financial Literacy Workshop in Marietta, GA
Bridgette Reynolds, Senior Customer Service Representative in Marietta, GA, was recently a part of a Financial Literacy Workshop in her community, and she got some help from a friend! Bridgette, on behalf of the Together for Good Council, presented a donation to Girls Inc. of Greater Atlanta. This program serves nearly 500 girls, ages 5-18, through in-school, after-school, and summer programs. Bridgette spoke to a group of young girls recently and explained her role as a Senior Customer Service Representative at United Community Bank. She gave details on specific checking accounts for students and youth and spoke about multiple financial literacy topics such as saving, mortgages, investing, and more!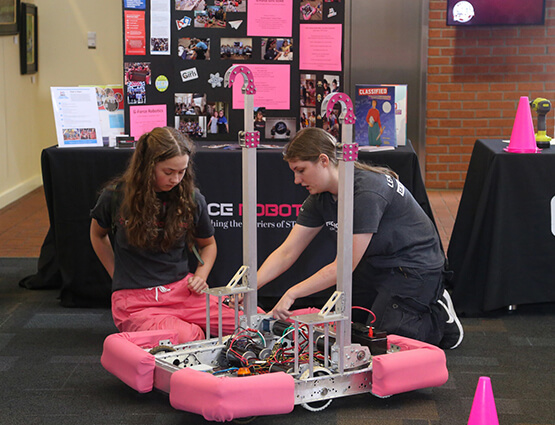 G-Force Robotics sponsored by United in Clayton, NC
The United team in Clayton, NC is proud to sponsor G-Force Robotics, Johnston County's first and North Carolina's largest all-girl robotics team.
Since forming in April, they have been hard at work prepping for upcoming robotics competitions. In addition to their STEM-focused programs and many hours spent in the shop, the team has also volunteered over 500 community service hours within Clayton and surrounding communities. The team is comprised of 12 young women in grades 9 through 12 from communities and schools across a tri-county area. The team seeks to encourage girls' interest in STEM fields while also developing skills in business, marketing, and leadership.
Recently, the team presented their competition robot at the Clayton, NC Town Council Meeting and spoke to council members about their accomplishments and upcoming community service initiatives. We're so proud of all they've accomplished so far, and we can't wait to see what's to come!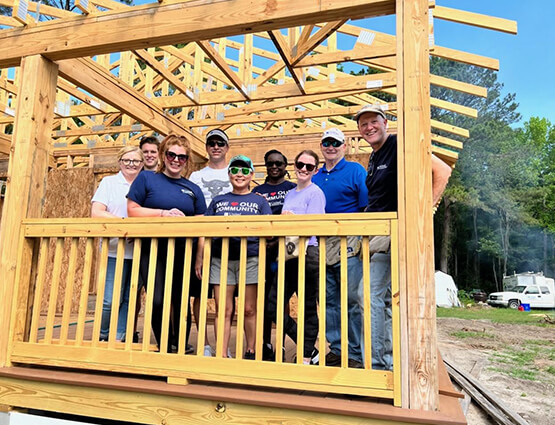 Habitat for Humanity volunteering in Greenville
Teammates in Greenville, SC worked hard to help a neighbor's dream of home ownership come true. Our bankers partnered with Habitat for Humanity for the day. The team worked alongside the future homeowner to help paint and install closet doors, and shelving. They even got in on some power tool action! Michelle Seaver, President of Greenville-Spartanburg said it was great fun, and her team can't wait to do this again soon.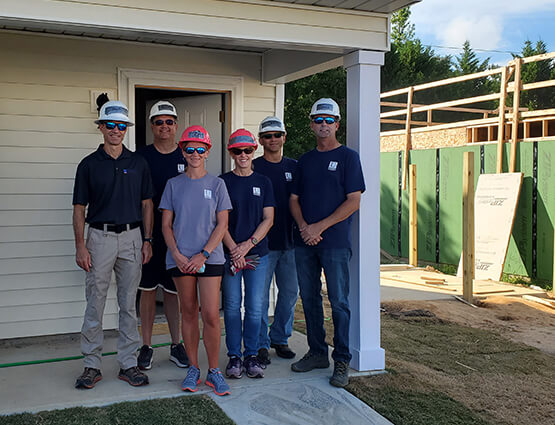 Habitat for Humanity volunteers in Wake County, NC
We've officially kicked off our partnership with Habitat for Humanity! Our first official build took place in Wake County, NC, on July 1. This new partnership will both support the cost of local builds and provide local United team members with the opportunity to volunteer on a build in their area. We believe it will impact our communities and help all of us connect to each other and our mission as bankers.
Supporting housing strategies and the path to affordable homeownership is a core pillar of the United Community Bank Foundation. This means investing in our communities and helping our customers reach their housing goals from a lending perspective. Partnering with Habitat for Humanity lets us go one step further and directly contribute to families' homeownership dreams in our communities.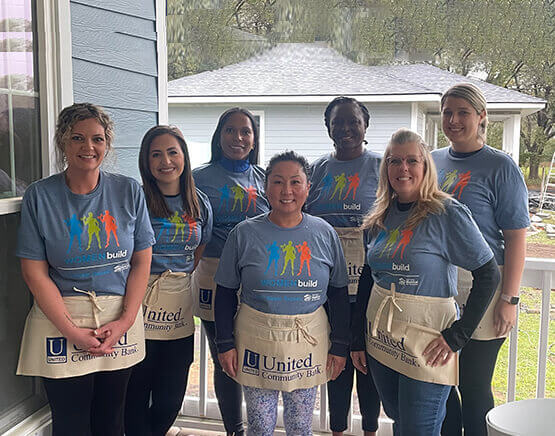 Bankers Participate in Habitat for Humanity Build in Charleston, SC
A group of Charleston United employees participated in the East Cooper Habitat for Humanity Women's Build on March 10 for Women's History Month! This team joined together to continue to work to complete two houses that they have worked on previously. The group initially began volunteering with East Cooper Habitat for Humanity in May of 2022.

The East Cooper Habitat Chapter's Executive Director, Gabrielle Yarborough, expressed how the goal for this build is to have the families in their homes by May 31. ​This is the 79th and 60th home build for the chapter! The United team is looking forward to meeting the families and seeing how their hard work helps to place them into a home.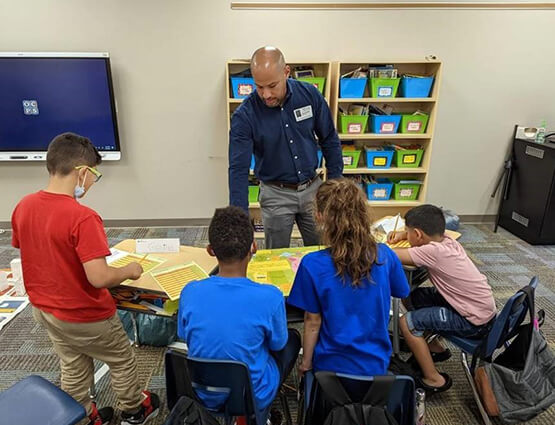 Junior Achievement in Orlando, FL
"Bright eyes and tons of questions!" That's what our United Community Bank team was met with when they visited with the local Junior Achievement group in Orlando, FL recently. The bankers had the opportunity to teach various grade levels at Pinar Elementary about money, savings, taxes, business, and more! The kids were enthusiastic and eager to learn, and even sent our team thank you cards asking them to please come back again! It would be our pleasure to do just that.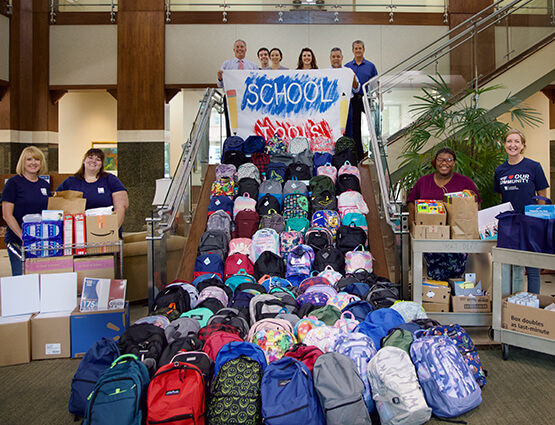 School Tools donations in Greenville, SC
Our Greenville, SC teams partnered with United Way of Greenville County and their School Tools Initiative to collect backpacks and school supplies for children in our community. Through the generosity of our team members, we were able to donate 141 filled backpacks and serve over 27 volunteer hours working with the United Way team.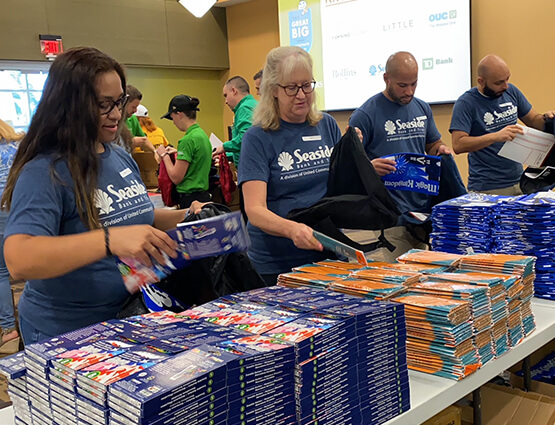 Seaside bankers volunteer in "The Big Backpack Build"
We're still in the middle of summer, but Seaside bankers down in Orlando, Florida are already thinking about back to school! This group, partnering with the Together for Good Council, donated to the "A Gift for Teaching" organization.

The donation, along with their volunteer efforts, allowed Seaside to support "The Big Backpack Build" event. They filled 15,000 backpacks with school supplies that will be given to underprivileged students for the upcoming school year. The event took place at the Valencia West Campus in Orlando. While this group has donated to the organization before, it was the first time they got in on the hands-on action of stuffing the bookbags.

The bankers say it was great opportunity to give back to our community – and – "We had so much fun doing it!" Thanks to these teammates for their commitment to our communities!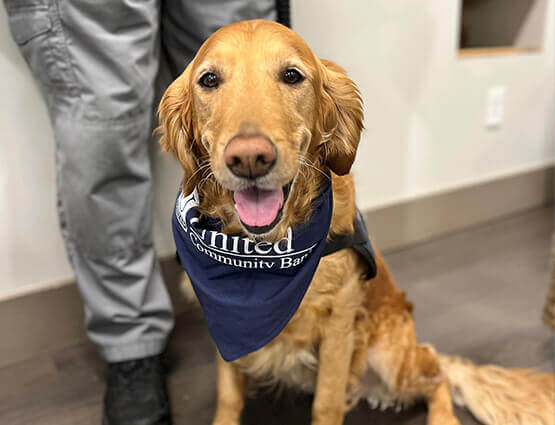 Service Dog visits Nashville, TN
In response to the heartbreaking events at Covenant School in Nashville, TN, United partnered with Crisis Response Canines. Crisis Response Canines (CRC) is a 501(c)(3) non-profit organization that certifies, trains, and deploys certified Animal Assisted Therapy (AAT) and Animal Assisted Crisis Response (AACR) teams. CRC deploys carefully selected, highly trained teams to scenes following traumatic events.
United's Green Hills branch in Nashville sits less than a mile from the school, and many of our area employees knew or had connections to the victims. These dogs spent a week visiting the branch, local fire stations, prayer vigils, hospitals, and more. They were also able to be present at the funerals of the victims.
With gratitude, the United Foundation has donated to Crisis Response Canines to help them continue the amazing work they have done in Nashville--and across the country.
Surprise Squad: Atlanta, GA
The Atlanta News First Surprise Squad thanks a Woodstock police officer with a gift for his help when a woman's car stopped in the middle of traffic in metro-Atlanta.
Surprise Squad: Mother and Daughter Surprised in Nashville, TN
The KMOV Surprise Squad helps to make the holidays bright for a much deserving local mother and her daughter who faces severe health issues. Partners with the Surprise Squad work together to provide support for medical costs, day to day needs, and household updates for this amazing family!
Surprise Squad: Pickens County Humane Society
The Pickens County Humane Society was awarded a check by the Fox Carolina Surprise Squad to help support their mission along with receiving a car full of supplies!
Surprise Squad: United Banker Honored in Marietta, GA
The CBS46 Surprise Squad turns the tables on sponsor United Community Bank and recognizes Marietta, Georgia branch's C.B. Fair with a donation in his honor to the Cobb Community Foundation. Fair was a champion of the Surprise Squad program until his retirement in January 2022.
Surprise Squad: United Honors Fifth Grader who Helped his Community
FOX Carolina's Surprise Squad gives back to a fifth grader who started a food pantry during the pandemic. Eleven-year-old Corbin started his pantry to support his local community and those who were struggling to buy food. This is his third year doing so and he collected over 500 canned goods. He also has organized a toy drive for Christmas to support local children in need.
Surprise Squad: Western, NC
The Fox Carolina Surprise Squad supports a Western NC small business owner who lost everything during Tropical Storm Fred.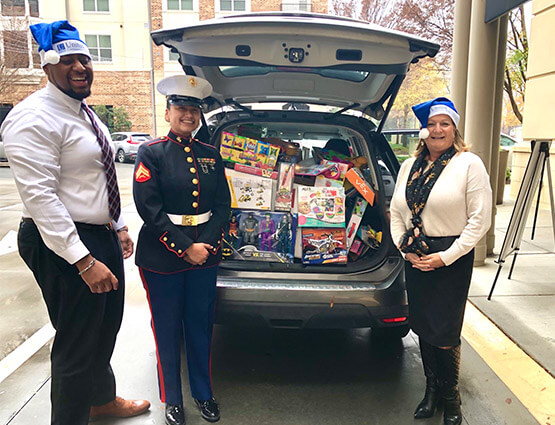 Toys for Tots Collection in Charlotte, NC
On December 6th, our Charlotte branch took part in the 75th annual Marine Corps Toys for Tots Program collection. The branch gathered three large boxes of donations to be distributed to families within the area. Since 1947, over 281 million children have been impacted by the service this program provides to local communities.

Corporal A. Zavala was designated to facilitate the collection at this branch. She explained how the program sent out over 600 boxes this season to be filled across the area. Each Marine coordinator is responsible for planning, organizing, and conducting the campaign in their community. "We touch every individual toy," explained Corporal Zavala.

Once these toys are collected, they are then sent to local, central warehouses, such as a former school in Charlotte. From here, they are then sorted by age group to be given as needed. Toys for Tots partners with local social welfare agencies, church groups, and other community agencies to identify and deliver the donations to less fortunate children of the community. Local campaigns stretch across America, including in each of United's footprint states: Alabama, Florida, Georgia, North Carolina, and South Carolina.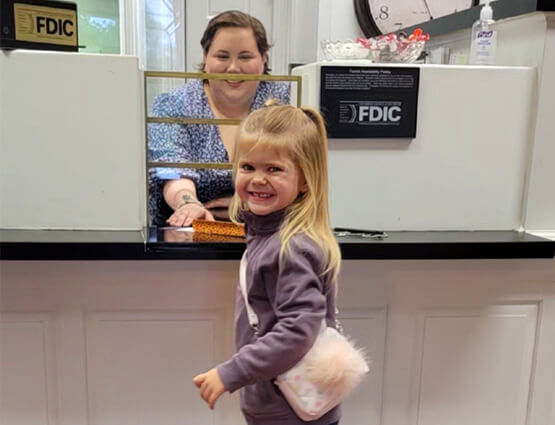 Financial Literacy Month & Treasure Chest Savings Account
Financial Literacy Month is one of our very favorite celebrations at United Community Bank. We believe strongly in supporting our communities' financial health. This year, we coordinated with our branches across the Southeast to invite our youngest banking members in to celebrate our brand new Treasure Chest Savings Account. This is a special account just for kids! The branches had stepstools for the little ones to be able to reach across the counter and see exactly what happens to their money once they put it into their new savings account! They also were given piggy banks, coloring books, and more! The money they're saving will, hopefully one day come back to them tenfold, but for us, it's the smiles that are worth their weight in gold!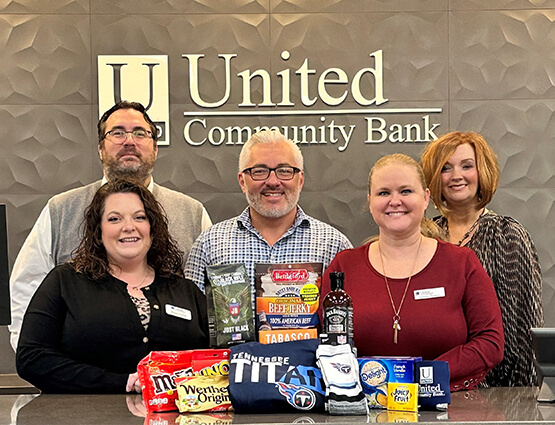 United bankers honoring Veterans Day
In observance of Veterans Day, we are celebrating America's veterans through acts of kindness and service across our footprint. We're also proud to highlight some of the veterans on our team. They shared their thoughts on what serving our country meant to them and what we can do to honor the veterans in our country.
Our teams are finding unique ways to thank and support veterans in their communities including organizing collection drives for care packages to send to military personnel, assembling and distributing care boxes to military families, raising funds to supply a veteran with training to train their own service dog, and writing thank you cards. In addition to the acts of service, the United Community Bank Foundation will be making a total of $25,000 in donations to local organizations that support veterans.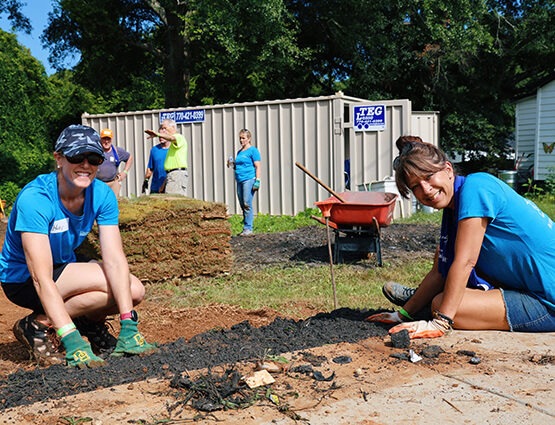 United bankers volunteer with Habitat for Humanity in metro Atlanta
United Community Bank team members were out in full force on July 23 to help Habitat for Humanity build a new home for a deserving family in Metro Atlanta. More than 25 United volunteers gathered to take part in planting, laying sod, touching up paint, and much more!

The family who will be moving into the home spent the day working alongside our team. Bridgette Reynolds, Assistant Vice President in Marietta, GA, said, "I was inside when the kids saw the house for the first time. They were so excited about the downstairs, but the excitement went to another level when they saw the upstairs. They were imagining where they were going to place their furniture. It was priceless. I am so glad that we could bless this family, but I was the one who was truly blessed to be able to volunteer on this build!"

The partnership with Habitat for Humanity is part of United's mission to support housing strategies and the path to affordable homeownership within our communities.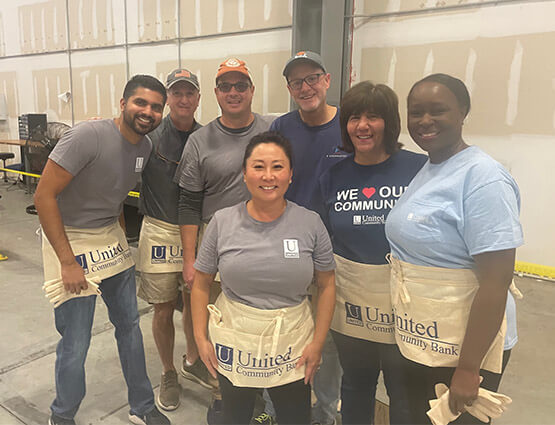 United Charleston Team Builds Habitat Playhouses
On December 3rd, over 300 volunteers gathered to construct 30 playhouses for the East Cooper Habitat for Humanity's 'Project Playhouse'. Habitats over the area come together for this annual event that serves deserving families across the Charleston area. Each playhouse is custom built for every child receiving it and catered to their particular interests – like Spiderman! Lowes Home Improvement works to sponsor the event and will be assisting in the delivery process over the next week!

Several members of our United team took part in this project, from construction and design to amazing freehand painting! (Nancy Aurora – Branch Manager, Mt Pleasant- Coleman Boulevard; Bhaumik Desai – Branch Manager, Charleston; Kara Johnson Nungesser – Mortgage Loan Officer, Mt. Pleasant; Tom Kutyla – Commercial Team Member, Charleston; Lea Pinckney – Regional Banking Manager, Charleston; Jon Presley – Commercial Relationship Manager, Summerville; Mikell Richards – Regional Mortgage Manager, Charleston; Faye Shepherd – Executive Assistant, Mt. Pleasant) "It is amazing to find out the talent that you have on your team when presented with a challenge!" said Faye Shepherd.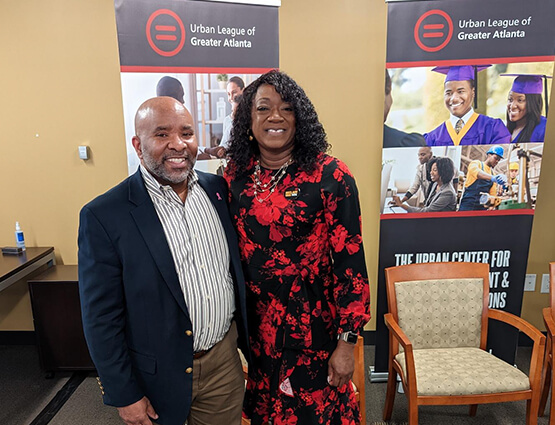 United Community Bank Partners with Urban League of Greater Atlanta
Eric Dunlap, a United Community Bank Mortgage Loan Originator in the Atlanta area, participated in the Fall Super Saturday Holiday Expo for Home Buyer Education on November 19. Sponsored by the Urban League of Greater Atlanta, the Expo sought to teach clients the key steps in reaching homeownership. Dunlap served as a panelist along with fellow United Community Bank MLO Jennine Hunter, to offer insight into mortgage-related questions. Johnette Brown, Senior Director of the Urban League of Greater Atlanta, was the facilitator for the panel discussions. The Urban League aims to help clients become homeowners and stay in their home for years to come.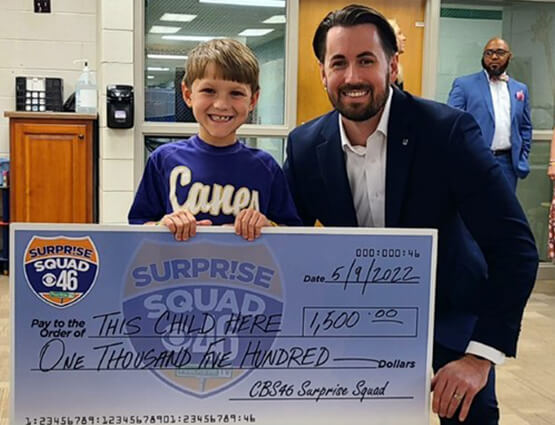 United Supports Boy's Ukraine Efforts​
7-year-old John Panter has a spirit of caring beyond his years. When the Cartersville, GA boy saw what was happening in Ukraine on the news, he wanted to do something to help. The first thing he did was empty his own piggy bank and pull out everything he had: $4.28. Then, with the help of family and friends, he began making crafts to sell. He set out with an initial goal to raise $250.
Then, John's story started to spread. With the help of our CBS 46 Surprise Squad team, United donated $1,500 to John's mission, and when cameras showed up to surprise John, his family and friends were there cheering him on.
His family says John is now nearing $20,000 in funds raised to help the children and families in Ukraine. The money will be sent to the aid organization 'This Child Here,' and the money will help make a difference for families who will be able to purchase food, formula, diapers, hygiene products, and more.
United-Fox Carolina Surprise Squad Visits Shelter of Hope
United's partnership with the Fox Carolina Surprise Squad continues to honor deserving members of the community. One example is the Pickens County Shelter of Hope, the first and only homeless shelter in Pickens County!

Opened and operated by Sunshine and Tracy Gantt, the couple made history by opening the shelter. Their mission is to strengthen and support the community by providing emergency shelter, food, clothing, showers, and supportive services to people who are experiencing homelessness, while collaborating with local social services agencies to end homelessness. Shelter of Hope recently celebrated 3 years of operation. In recognition, they were nominated to be recipients of a donation from the Surprise Squad.​

Mrs. Gantt shared her gratitude to United for acknowledging their work. "Thank you for what you do for the community. Being honest, open, and transparent, we are often overlooked for opportunities like this," she said.​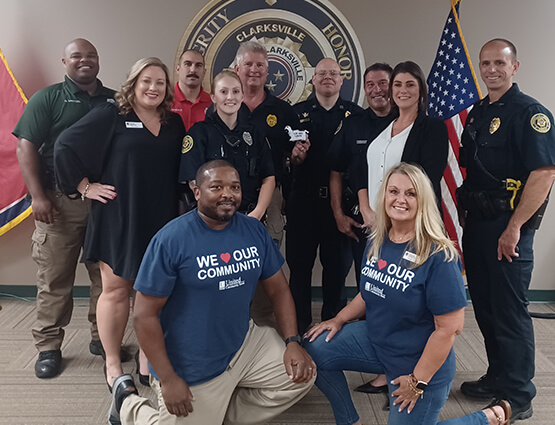 United's 9/11 National Day of Service
United employees across the footprint observed the 9/11 National Day of Service and Remembrance by honoring 9/11 victims and rewarding first responder heroes with acts of service throughout the first two weeks of September. Teams began their acts of service ahead of 9/11 by cooking lunch for first responders or dropping off thank-you gifts before the weekend started. Other teams honored victims on 9/11 with acts of remembrance and sacrifice.

Employees were encouraged to organize acts of service within their communities or participate in projects led by the Together for Good Council. In addition to the acts of service, the United Community Bank Foundation will make a total of $25,000 in donations to local organizations supporting first responders.