Save for your future. Save for your dreams.
Setting up financial goals for yourself is just as important as establishing a budget. As you make progress on your goals, our My Money Manager tool not only serves as a rearview mirror to see how far you have come, but also a map to guide your financial path forward. Whether you're hoping to buy a home, take a vacation or even head back to school, bring your big, exciting financial goals into focus with My Money Manager.

The tools within the My Money Manager help you calculate your net worth, set budgets, view your spending habits and trends and set up a debt payment plan.
Initial Set Up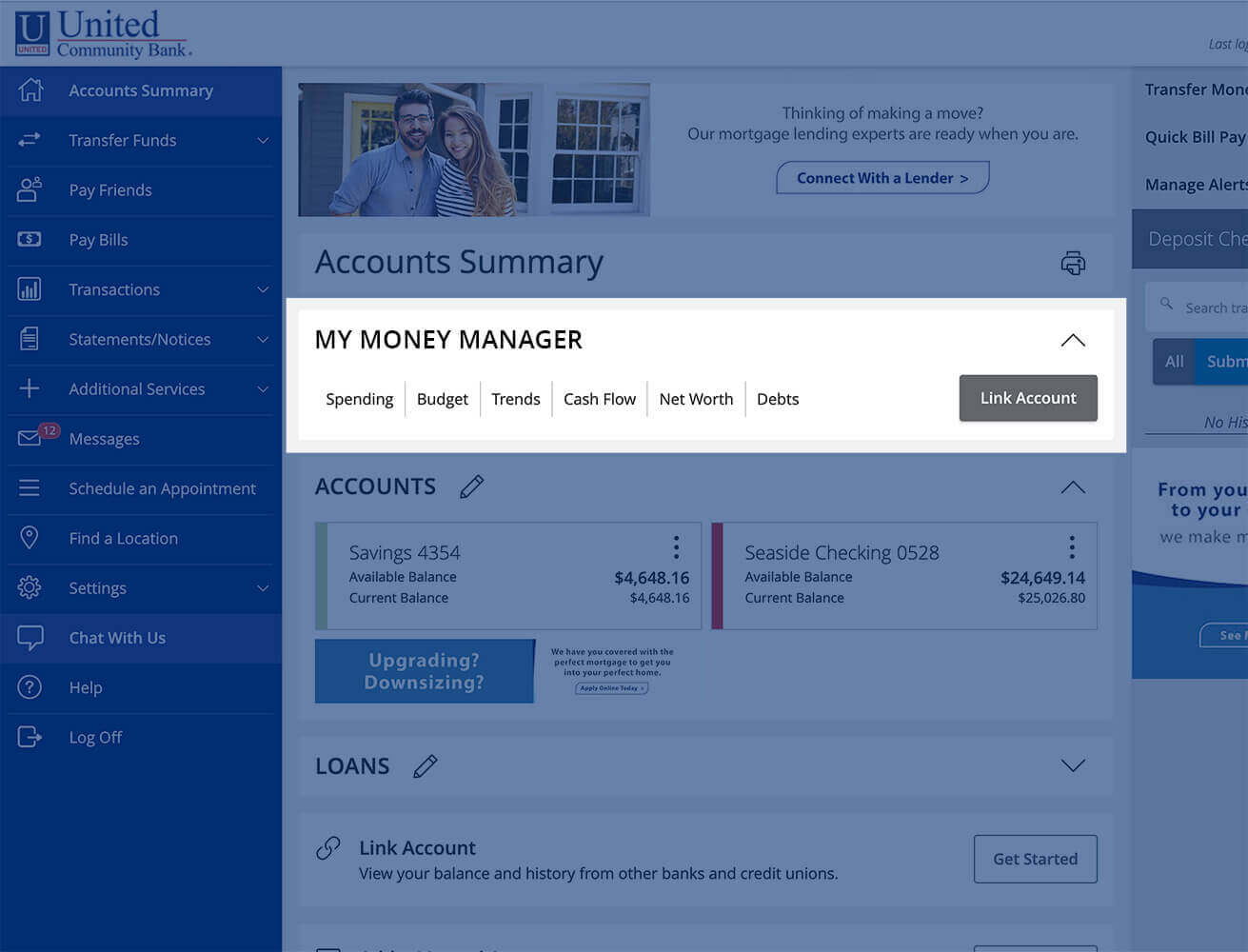 Linking an Account
Before you can begin setting up your financial goals, you need to link all your accounts, items you own and debts.

Link your non-United accounts from the homepage.
Click the Link Account button
Locate your financial institution using the list, search bar or enter manually.
Enter your user ID and password.
Click the Continue button to finish linking account
Categorizing Transactions
In order for our My Money Manager tools to work properly, make sure your transactions are correctly categorized. When all your accounts are linked to My Money Manager, your transactions are automatically categorized. Common categories include gas/auto, entertainment, medical expenses, rent and utilities. If a transaction needs to be reassigned, you can manually edit in the category.

Click an account to view the Account Details page.
Click a category icon to edit the category.
Select a new category.
Click the arrow icon to view sub-categories.
Click the + Add Sub-Category button to add a different sub-category.
Enter the sub-category's name and click the check button.

Splitting a Transaction
My Money Manager offers the ability to split one transaction to represent multiple categories. For example, if a shopping trip needs splitting into multiple categories such as grocery, pharmacy and home supplies, you can review your receipt and split the total charge across multiple categories.

Click an account to view the Account Details page.
Click the 3 dot icon and click Split Transaction.
Click the category icon to edit the new category.
Enter the amount in the text box and click the check button.
Click the Split Transaction button to add additional charges.