Beth Hallock Named President SBA at United Community Bank
Posted on September 30, 2019
United Community Bank is pleased to announce the promotion of Beth Hallock to President of SBA. Hallock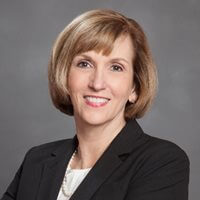 has over 35 years of industry experience, 18 of which have been dedicated to various areas of SBA lending, and most recently served as SBA National Sales Manager for United. She will now oversee all aspects of the bank's SBA team, including strategy, growth, product definition, training and sales.

"Beth has flourished into a strong leader during her time with us and I could not be more pleased to have her step into this expanded role," said Rich Bradshaw, Chief Banking Officer for United Community Bank. "Our SBA team has grown tremendously over the past few years and has consistently been recognized as a top-tier lender. I am confident that Beth will take us to the next level."

Hallock joined United two years ago from TD Bank where she served as Regional Sales Manager for the Southeast. Since then, she's been responsible for the management and growth of United's Craft Beverage, Dental, Veterinary/Medical and Franchise verticals, as well as all SBA activities in the bank's four-state footprint. Prior to her time at TD, Hallock served in SBA sales roles with several national lenders including UPS Capital, CIT and The Money Store.

"It is an honor to be given this new responsibility at United Community Bank," said Hallock. "Entrepreneurs are vital to our communities and we are proud to help them take their businesses to the next level. I have enjoyed working alongside the dynamic team we've cultivated at United and look forward to our continued success."
Hallock is a graduate of Auburn University. Early in her career, she was recognized by SBA as Small Business Lender of the Year for Region 4. She was also recognized for her volunteer efforts with the Small Business Development Centers. Hallock is involved with many community organizations including the Salvation Army.