United Community Honors Veterans Day through donations across the Southeast
Posted on November 09, 2023
GREENVILLE, S.C. – In honor of Veterans Day, the United Community Bank Foundation is donating $30,000 to organizations across the Southeast that support veterans and their families.
"As a proud veteran of the U.S. Air Force and Naval Reserve, it's important to me that we collectively express our gratitude to the men and women who have served our nation, be it in active duty or as dedicated reservists," said Rich Bradshaw, President and Chief Banking Officer of United Community. "I take pride in our team's commitment to making a meaningful difference in the lives of those who have made significant sacrifices for our country."
Donations to organizations across the Southeast include:
Alabama:

Vets Like Us, Housing First Inc. and Semper Fi Community Task Force.

Florida:

Folds of Honor and Fisher House.

Georgia:

United Military Care, Golden Isle Veterans Village, Habitat for Humanity Coosa Valley, Habitat for Humanity of Towns/Union Counties and Cresswind Veterans.

North Carolina:

Veterans Healing Farm, Veterans Services of the Carolinas-ABCCM, Habitat for Humanity of the Charlotte Region and Good Shepherd Center.

South Carolina:

Service Dogs for Veterans, Rebuild Upstate, Low Country Veterans and Upstate Warrior Solution.

Tennessee:

Building Lives Foundation Inc. and Smoky Mountain Service Dogs.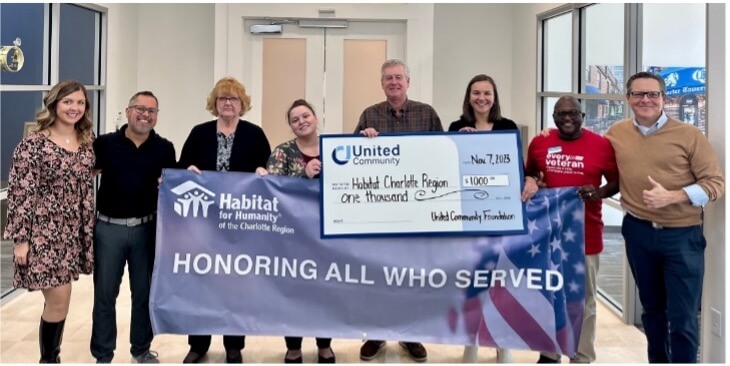 United is committed to making a difference in the communities it serves, and its employees have led the way. United Community's Together For Good Council is a group of volunteer employees who help advance the bank's social impact programs that support the communities they work and live in. Since the United Community Bank Foundation was founded in early 2021, it has given $1,217,000 to 387 organizations across all six states in its footprint.
"In addition to donating to various organizations, our team members are also encouraged to take part in activities in their own communities to show appreciation for the freedoms and liberties we have been given, thanks to the brave men and women who have served our country," said Moryah Jackson, SVP, Community Development and Engagement Department.
United Community is proud to support veterans and their families, both through community involvement and as a banking partner. The bank has specific programs designed to support veterans, including home buying programs. For more information, please reach out to your trusted United Community banker.

About United Community Banks, Inc.
United Community Banks, Inc. (NASDAQ: UCBI) is the financial holding company for United Community, a top 100 US financial institution that is committed to improving the financial health and well-being of its customers and ultimately the communities it serves. United Community provides a full range of banking, wealth management, and mortgage services. As of September 30, 2023, United Community has $26.9 billion in assets and 205 offices across Alabama, Florida, Georgia, North Carolina, South Carolina, and Tennessee, as well as a national SBA lending franchise and a national equipment financing subsidiary. United Community has been recognized nationally as a leader in customer service, financial performance, and workplace environment. Among the accolades, United Community is a nine-time winner of the J.D. Power award that ranked the bank #1 in customer satisfaction with consumer banking in the Southeast and was recognized in 2023 by Forbes as one of the World's Best Banks and one of America's Best Banks. United Community was also recognized by Newsweek in 2023 as one of the Most Trusted Companies in America, is a multi-award recipient of the Greenwich Excellence Awards and was named by American Banker as one of the "Best Banks to Work For" in 2022 for the sixth consecutive year. Additional information about United Community can be found at ucbi.com.