Online and Mobile Banking: Getting Started
With United, you have access to a new online and mobile banking experience where you can view and manage your bank accounts right from your desktop, tablet, or smartphone.
Step 1:
When you log in to United's Online and Mobile Banking system for the first time, the following steps will help you get started:
Update your Internet browser. An updated browser is the gateway to a better and more secure online financial experience. It is vital to use the most current version of your preferred browser. Update your browser now.
Update your email address, telephone number, and mobile number within your current Progress online banking system. It's important we have this information so we can communicate with you about the planned upgrade, including sending your new Secure Access Code (SAC) so you can sign in to the United online banking system.
Update financial software. If you utilize financial software such as Quicken® or QuickBooks™, there will be additional steps to take to ensure you are able to continue to successfully download transactions from the new online banking system. Review Financial Software Transition Guides.
Replace your mobile banking app. Delete your Progress Bank mobile app from all devices. You may download and begin using the new United mobile app.
Step 2
Visit ucbi.com
Enter your login ID, which will be the same as your Progress Bank username, then click on the "Log In" button.

Step 3
Enter your password
Enter your Progress Bank online banking password when prompted and click "Log In."
Step 4
Select your Secure Access Code delivery method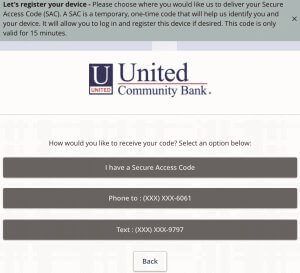 Choose where you would like us to deliver your Secure Access Code (SAC). An SAC is a temporary, one-time code used as a security method to prevent someone other than you from gaining access to your account. When logging in to online banking or the mobile banking app for the first time from any unrecognized computer or mobile device, you will be asked to select a "target" (text message or phone depending on what contact information we have on file for you) to receive your SAC. It will allow you to log in and register your computer or mobile device. The SAC is only valid for a limited period of time.
Note:
SAC notifications will be distributed by United Community Bank. Treasury Management clients that initiate wire transfers through online banking will be issued a Token Code in lieu of a SAC.
Step 5
Enter your SAC
Once you receive your SAC, enter it in the field provided. SACs are only valid for a limited time and cannot be reused.
Step 6
Set your new password
Change your password in the fields provided. Your new password must be at least eight characters long, but no more than 20 characters long. It must also contain a minimum of one lowercase letter and one number.
Step 7
Accept the Online Banking and Mobile Banking Terms and Conditions
Review and agree to the Online Banking and Mobile Banking Terms and Conditions associated with these services.

Download the United Community Bank mobile app
The United Community Bank mobile app will need to be downloaded from the Apple or Google Play store to continue accessing mobile banking. With the app, you can bank from your iOS® or Android™ device. Download now.

Alerts:
If you use Online Banking Alerts, you will need to recreate them once you've signed in to Online and Mobile Banking.
Online and Mobile Banking Support
Phone: 1-800-822-2651
Online Chat: Monday–Friday, 7:00am–5:00pm CT and Saturday, 8:00am–11:00am CT