10 ways to give your home a facelift on a budget
Posted on August 11, 2020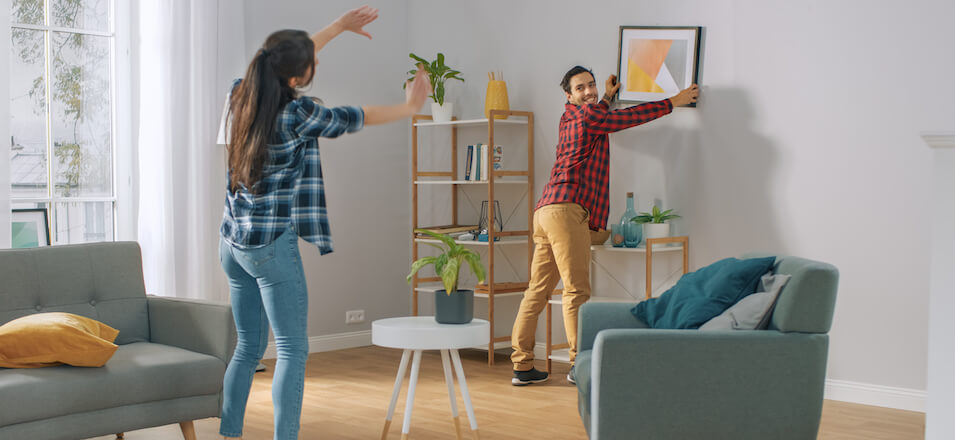 In recent months, we've all seen more of our homes than we ever expected to due to quarantine. Need some inspiration to perk up your surroundings and elevate your atmosphere while you're stuck inside? Check out these ten different options to give your house a slight revamp while still being mindful of that quarantine budget! Another plus: all of these projects can be done from a socially-safe distance!
For outside your home:
1. Paint the front door
A major trend right now is painting your home's front door a different color. Don't be afraid to go bold, try out red or yellow! Plus, there's hardly any cost involved for painting it yourself, just the cost of the paint and any new tools!
Total project price: $40
2. Do some basic landscaping
A nice yard with new greenery, walkways and décor can turn your yard into your own personal getaway spot! There are many cheap options for shrubbery and tile that can be planted and installed yourself for an extra pop of color and some truly great results!
Total project price: $70
3. Pressure wash everything
Now that summer is here, it might be time to bring out the pressure washer to get rid of that leftover spring pollen and residue. Pressure washing is actually a great way to clean the entire front of your house, from your garage door to your gutters! Give it a try, you'll be surprised what a difference it makes.
Total project price: $35 for renting, $100 for purchasing
4. Hide your AC unit
Let's face it–a bulky AC unit sitting outside your house is a major eyesore. Try putting a small fence or some strategically-placed plants around your unit for instant camouflage.
Total project price: $45
5. Switch up your lighting
A new set of porch lamps can make all the difference to your home's exterior. And the best part about this project is that there's not a lot of labor or expense involved!
Total project price: $50
6. Makeover your mailbox
Change up your mailbox by replacing the post, painting the box itself, or even hanging some potted flowers from the post. This will brighten not only your day, but the mailman's too during these dreary times!
Total project price: $65
For inside your home:
7. Paint some walls a different color!
Nothing brings a room together better than an accent wall! Try brightening up a room with a pop of color or a fun new design that complements your home's décor.
Total project price: $50
8. Add some cool wall art
If you don't feel like painting (we get it, it's a lot of effort!) check out some online shops or other local vendors that offer beautiful and inexpensive pieces of art. The addition is guaranteed to bring some pizazz to a boring wall and brighten your day.
Total project price: $10
9. Declutter!
Is it time to find a new home for some of your belongings that have been cluttering up your living space or closets? Maybe that junky room needs to be cleaned out. Now may be the best time to do just that.
Helpful Hint: try selling any items that might hold value for others! Try Facebook Marketplace, OfferUp or Letgo for starters.
Total project price: $0!!
10. Bring greenery indoors!
You can never have enough greenery (okay well maybe you can)! Look into adding some plants as a dining table centerpiece or find a bigger plant to fill that empty spot in the corner of the room. Be creative!
Total project price: $30
Feeling creative yet? Throw on a mask and head to your favorite home improvement store to get started. Stay safe and enjoy updating your home without breaking the bank!

Note: total project prices are estimates of the average minimum amount homeowners typically spend on each respective project. Final prices vary based on personal taste, quantity, quality, size and what's best for your home!


Interested in a HELOC to get started on these projects?

Contact Us Today