A Very 2021 Valentine's Day
Posted on February 12, 2021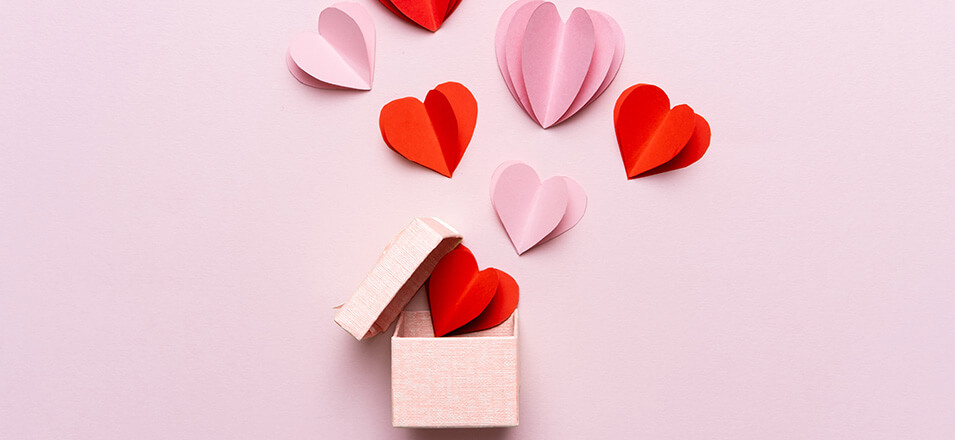 Whatever your budget and no matter your relationship status, there are so many budget-friendly and pandemic-approved ways to enjoy this Valentine's Day. And remember, the day is about loving yourself and each other. Leave the dishes for tomorrow and celebrate the day!
A Night Out (at Home)
If you're usually the type to have a romantic night out with your valentine, you can still do it up at home. Treat the evening as if you were headed to your favorite, swanky restaurant. Before the evening begins take time to snazz up your dining area with candles, music or even a few Valentine's Day decorations. Get dinner going with a re-creation of your favorite dish from a restaurant you love—even better if you make dinner together.

If you live with your partner, get ready for your date in separate rooms to make the reveal extra special. Then, "meet" for dinner, and enjoy your meal as if you were out on the town. End the night with your favorite romantic comedy, and the best part?—you can kick your shoes off and throw on your pajamas. That's an added bonus of being at home.
Take an Online Class
We're no strangers to technology in the COVID-age, and an online class is a perfect way to spend time together while learning a new skill. Sites like Eventbrite have dozens of classes in a wide range of prices from FREE to around $30. Learn to make a chocolate lava cake, take a virtual tour of Paris or put the cute in charcuterie with a board-making class.
Get Outside
If you're the outdoorsy type (and the weather cooperates), take a hike on the 14th! Search All Trails for nearby hikes or find an adventure in your state on the National Parks Service website. You can visit most parks and trails for free or with a small entry fee, and it's the perfect way to stay active while socially distancing.

Add a picnic to the agenda to make in even more special. Pack a bag with sandwiches, trail mix and even a small bottle of your favorite bubbly for an end-of-hike Valentine's toast. Just remember to leave no trace and take any trash or leftovers back with you.
Spa Day
Sometimes, there's nothing better than time to yourself to relax at home. Make it extra relaxing with an at-home spa day. First things first, unplug. Choose a time to power down your phone and disconnect to truly unwind. Turn on spa tunes, dim the lights and pick at least three things that relax you. Whether that's drawing a bath, snuggling with your furry friend or watching Friends for the hundredth time, fill your day with things that make you happy. Indulge in your favorite snacks and treats while you relax. Whether having a self-care day alone, or enjoying with a partner, relaxation is always a good idea.

From a romantic night in, to a lavish self-care day, Valentine's Day is about treating yourself and your loved ones with care. Enjoy it this year with these easy, on the budget ideas.