Grilling on a dime this 4th of July.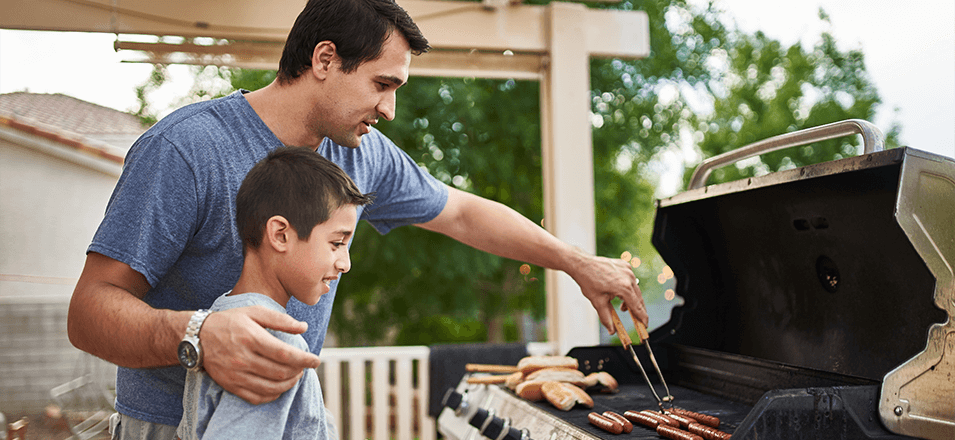 Nothing says summer holiday quite like firing up the grill and sharing barbequed bites with family (at a safe social distance, of course). While cookout fun may look a little different this year, there are still ways you can grill and be kind to your wallet—it's easier than you think. No matter what you're cooking and no matter how you're connecting with your pals, these tips are sure to keep spending low and good times high.
Raid the Pantry
Family invited (to join in person or virtually via video call)? Check. Menu finalized? Check. Now stop! Before you head to the store, take inventory of what you already have—especially if you've been stockpiling cans the last few months. It's likely your pantry has at least one of the ingredients on your grocery list. A quick check before you grab the car keys will help keep you from overbuying at the store.
Rethink the Meat
There are a couple of ways to make the star of the show more budget friendly. Try taking on a more affordable cut of meat. Instead of chicken breasts, try some bright and flavorful grilled wings. Rather than ribeyes, go for a flank steak and dress it up with chimichurri sauce (more on that later). Just because it's cheaper, doesn't mean it's not as good and flavorful—it's simply an opportunity to get creative!
Another way to save on meat—skip it! This time of year there are tons of fresh vegetables you can use in place of meat that taste great chargrilled. How about some colorful veggie kabobs? Use them as your main dish, or as a hearty side.
Sauce it Up
Now back to the chimichurri. Whatever you're grilling, sauces and toppings can take your grilled creations to the next level. Even better, you can make your own sauces with ingredients you may already have. The base of many condiments and sauces is plain old ketchup and mustard. Mix them together with some spices and other ingredients, and you've got an out-of-this-world burger sauce.
Don't Skip the Sides
Adding sides to your menu can really help you save in the end. Rather than overbuying meat, try serving an inexpensive, yet filling pasta salad with your burgers or brats. Also, remember that it's usually much cheaper to prepare your sides rather than buying pre-made ones in your grocery store's deli.
If you're worried about appeasing everyone at the cookout, have others pitch in with the sides. That way, there's at least one thing they like, and you'll save some change. Just because you're head grill master, doesn't mean you have to do it all.
Virtually celebrating? No problem. Organize a porch swap. Make your famous side dish in a safe cooking environment donning a face mask in your favorite print. Portion out your dish into smaller containers and have your friends do the same. Dole out the goodies from a social distance at a designated pick-up time before the "party" starts and everyone gets to enjoy the potluck.
Whatever summer celebration is up next, you can rest easy knowing everyone can be fed on a dime with some planning. Happy grilling!