Holiday Budgeting
Posted on November 22, 2021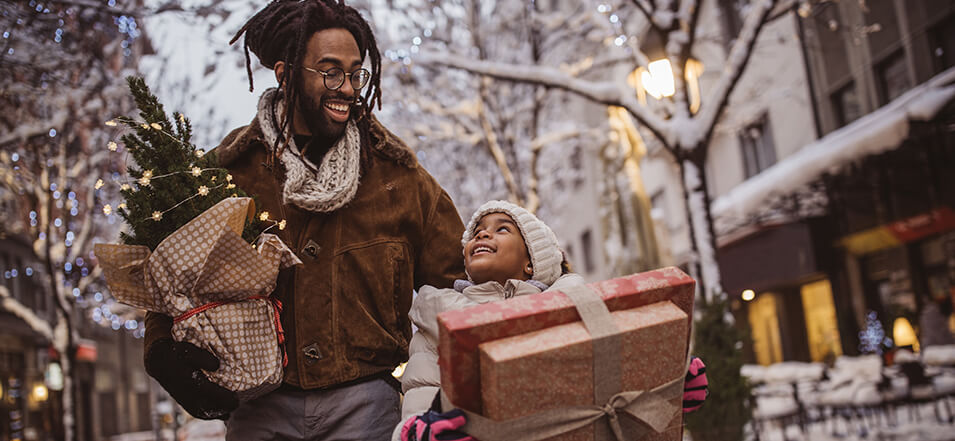 The holidays can be a joyous time full of family, fun and festivities, but it can also be a financially stressful season. Gift-giving, traveling, and general merry-making can all come with a pretty hefty price tag.

When you consider the added stress of broken supply chains and fast-approaching holiday celebrations, you may be feeling the pressure. Before you set off to the over-crowded mall, take a look at these easy tips to make this season's holiday purchases a little less stressful and a lot more efficient.
Make a budget
If you haven't established a holiday spending budget, now's the time. A budget can help keep you focused and stop you from gifting beyond your means. Budget-conscious gifting doesn't mean skimping on the quality of your gift––with a little creativity and ingenuity you can delight your loved ones with meaningful gifts.
Skip the trip to the mall
While everyone loves pictures with Santa and the convenience of dozens of retailers in close proximity, shopping centers (and the crowds they attract) can become a source of major stress. Instead of navigating chaotic parking lots and waves of less-than-merry shoppers, try shopping at local retailers or shops a bit off the beaten path. Many retailers now also allow you to shop online and pick up your purchases at the front of the store, avoiding the bulk of the crowds. With this method, you also won't have to pay for shipping!
Say no to the store credit card offer
"Would you like to save 30% on today's purchase by opening up a store credit card?" It's a tempting offer, particularly if your total rings up to more than you were anticipating. But beware–store credit cards can save you money in the short term while ultimately hurting your financial health in the long run. If you're not confident in your ability to immediately pay off the balance in full, the typically high-interest rates and too-good-to-be-true terms could hurt you in the end and land you into a debt spiral.

Need some extra funds this holiday season? Existing United customers with a checking account can qualify to apply for an unsecured loan or line of credit1 up to $15,000. Get a response in minutes and access your funds in three business days or less.
Think outside the (gift)box!
They say good things come in small packages, but sometimes the best gifts aren't physical at all. Instead of buying more stuff that will likely end up in the back of a closet or the bottom of a junk drawer, try gifting a memorable experience. From local brewery tours, to skydiving adventures, to virtual cooking classes, the options are near limitless. For a gift that keeps on giving all year long, try purchasing a subscription box or membership for your loved one! If you have a special set of skills, like a green thumb or artistic abilities, give the gift of your services. Or consider giving the most precious gift of all––your time. A "babysitter for a night" coupon may be the best gift you can give a busy parent.
Save the receipts
Many retailers have price adjustment policies that can get you some cash back after the holidays. Some stores will agree to pay the difference if an item is marked down within a certain number of days of your purchase. You'll probably see the biggest price drops starting on December 26, but be sure you bring your proof of purchase to the store with you when you make the claim––and don't forget to read the fine print!
Check the hours
With the influx in seasonal shoppers, some stores will staff up for extended shopping hours during the holiday season. This can give you more shopping flexibility, and a quick Google search can show you the most popular times for many stores, allowing you to avoid the worst of the crowds.
Save now for next year
Start thinking now about next year's holiday shopping and base your budget on what you spent this year. Divide that number by 11 months (January-November) and commit to putting that money away each month in your United Savings Account. Link your United Checking Account to your savings account and have that amount automatically transferred each month using Online Banking and Bill Pay from United.


1 Upon credit approval.