Key Players in the Home-Buying Process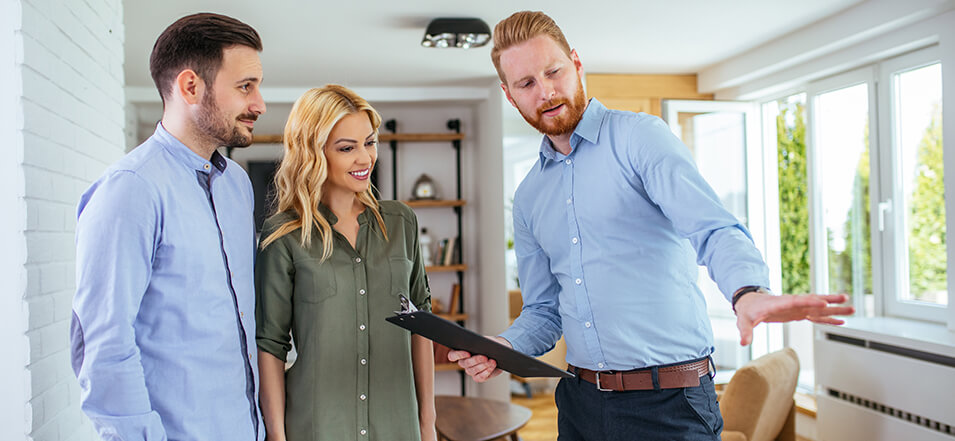 Buying a home isn't a one-player game. You're going to work with a number of people throughout the process.
Mortgage Loan Originator
The first person you'll work with is your mortgage loan originator. You'll share information like your W-2s and bank statements so that your lender can get an idea of what product(s) and rates you may qualify for.1 During that prequalification process, you'll also figure out your home-buying budget.
Real Estate Agent
That budget is a really important piece of information to share with the next person you'll work with: your real estate agent. You'll work with your agent to target homes to tour and, when you find the one you fall in love with, to make an offer on the property. Your agent will write your contract and negotiate the terms of the deal with the seller's agent or the property owner, depending on who listed the house.
Home Inspector
When your offer is accepted, you may opt to have the home inspected. A home inspection gives you the opportunity to work with a qualified professional to thoroughly inspect the property, checking for things like crawlspace moisture level, how quickly the home's HVAC system cools and heats, and whether there are signs of damage on things like the roof.

The home inspector will write up a report with all of the findings, along with photos taken during the inspection. Depending on the terms of your contract, you may be able to work through your agent to negotiate repairs based on the inspection report. But it's important to keep in mind that everything that's noted in that report doesn't necessarily need to be fixed. Some of the items noted may be cosmetic issues you can take care of after you move in or things to keep your eye on as the house ages.
Appraiser
Your appraiser will also play a key role in your home-buying process. Once your loan application with United is approved, we'll order an appraisal for you. This is a process we use to better understand the market value of the home you have under contract.

The appraiser will take a look at the house, the yard, and the surrounding area. This person also looks at comps for that property—that's data on similar properties that recently sold in the same area. The goal of the appraisal is to give your lender an objective estimate of the home's market value and to make sure the purchase price is fair for you.
Underwriters
During the time you're under contract on your home, we'll have a team working on your loan in the background. After your offer is accepted, our underwriting team will take a look at your application. Our underwriters ultimately decide which loan applications are approved, based on the specific loan program guidelines.
Processors
During the time your property is under contract, you'll likely hear from our processing team. Our processors make sure everything is on track to meet the closing date on your contract. That means they may reach out to you to request additional documents or gather more information for our underwriters as your loan application is reviewed.
Settlement Agent
Our final key player is your settlement agent. That's the person who handles all the money in this transaction, keeps track of all your closing costs, and lets you know how much money you're going to need to bring to the closing table (you may also have heard this person called a "closing attorney").

The settlement agent also keeps track of all the documentation during your transaction and is the person who will send out your closing disclosure. You'll get that document at least three days before your closing so you have plenty of time to look over the final terms of your mortgage and review all the costs and credits associated with it and your closing.

When you're ready to take the first step in the home-buying process, we're here for you. To start the conversation, contact our team or start your secure, digital application now. We're here to help you every step of the way.


1Restrictions apply. Not all borrowers will qualify. This is not a commitment to lend.