United Community Bankers Reflect on Women's History Month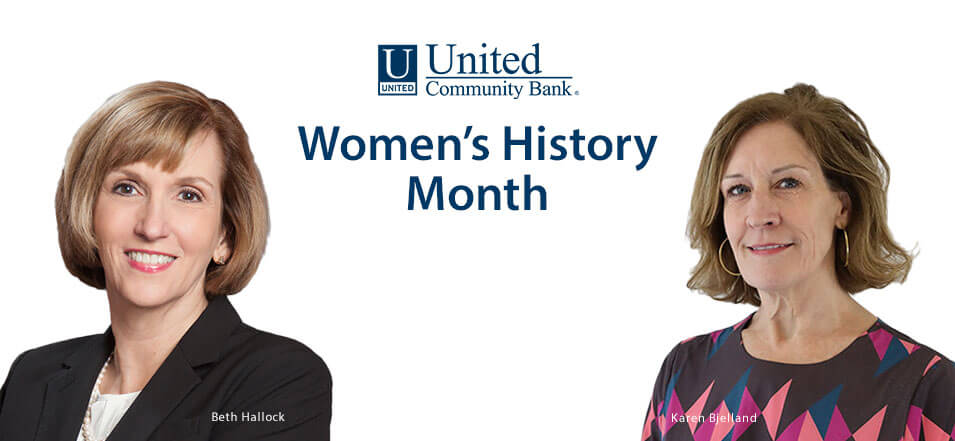 "As long as I am Chairman of this Board, I will never have a female on loan committee."
Beth Hallock says she'll never forget hearing those words in a meeting years ago when she was first starting out in the business.

Karen Bjelland remembers leaving a company her former boss saying pointedly, "Good luck in your new role."
"Why?" she asked him. "They've never had a woman in that position," was the response.

Fast forward to today, and both women are now mangers overseeing multi-million dollar loans at United Community Bank.

"Well, I guess we have a lot of history now!" laughed Beth, as she sat next to Karen, trading stories about memorable moments in their careers. "You know you're getting older when you're asked to talk about Women's History Month! But it's an honor to share our stories," she said, smiling.

The two women had different ways of getting into the banking business, but similar experiences from the start.
Beth's sister-in-law was working for a local bank, and told Beth she could get her a job.

"And I thought, 'I'll try that for a while.' That was 45 years ago," Beth said.

She started as a teller, then became a branch manager, and kept moving up – but not without roadblocks. When a Chairman of the Board at a past job said women wouldn't work in the loan business, she proved him wrong. She pushed hard and kept climbing.

She ended up at United Community Bank, where she's been for five years, now serving as President, SBA Division.

Karen started banking in Sioux Falls, South Dakota. She says she was working on a team with two men. She was chosen specifically by a female manager who would become her mentor, always looking for opportunities for her succeed – not because she was a woman, but because she was a hard worker.
Karen is now United Community Bank's SBA Chief Credit Officer. She's been at the bank for five-and-a-half years out of her 36 years in banking.

"I learned you have to promote yourself. You don't have to be the loudest voice in the room, but certainly standing up for yourself is important. You can't expect people to just know about your accomplishments; sometimes you have to bring it to their attention," Karen said.

That's the kind of advice Karen and Beth now share with women both in and outside of their industry. They say get involved, both in your organization and your community. Immerse yourself in every part of the job you can; make yourself indispensable. And, a big one they say, is make sure you motivate and encourage other women along the way.

Rich Bradshaw, President and Chief Banking Officer at United Community Bank, says he believes in that wholeheartedly. "I have had the honor of working with Beth since 2005 and with Karen since 2016. They are at the top of their field and are industry experts. United is filled with outstanding women leaders who I am proud to say I learn from every day," he said.

Beth, who now has 70 direct reports, says more than half of her managers are women.
"What I've found, is that they've identified themselves. They have showed us through hard work and historically through their knowledge, they have gotten to where they are, just by merit. You have to have the opportunity, but if you have the skills and the opportunities present themselves, you have to be willing to go out on a limb and take the risk," said Beth.