Brent Williams Named Senior Director of Marketing and Sales Strategies for United Community Bank
Posted on February 17, 2019
United Community Bank is pleased to announce Brent Williams has been promoted to Senior Director of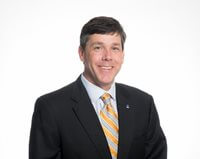 Marketing and Sales Strategies. In this newly created role, Williams will be responsible for the planning and implementation of integrated marketing strategies that increase recognition and drive growth.

"I'm excited to have Brent step into such a crucial role," said Marion Crawford, Interim Chief Marketing Officer for United Community Bank. "His knowledge and skill set will be beneficial as we work to strengthen our brand and connect with customers in new ways. We are focused on delivering an excellent customer experience, both digitally and in-person, and Brent will be instrumental in helping us achieve our goals."

Williams has nearly 20 years of experience in product management, client strategy, cash management and retail network planning with a variety of community and national banks. He previously served as Director of Community Banking Sales & Service for United where he led product, sales and service initiatives within Community Banking in partnership with Specialized Lending, Mortgage and Advisory Services. Williams is a graduate of Wofford College and an honors graduate of the Consumer Bankers Association's (CBA) Executive Banking School where he received the Tem Wooldridge Award, the school's highest honor. He also served as a faculty member of the CBA's Executive Banking School.

"I am honored for the opportunity to help shape the future of customer outreach and experience for United Community Bank," said Williams. "Our industry is in a heightened state of transition and it is more important than ever that we connect with customers in a cohesive, needs-driven manner. I'm eager to continue working with the team and to leverage my expertise to provide the best possible experience to each of our customers."

Deeply connected to the Upstate community, Williams is a previous Board Member and Treasurer for the Public Education Partners of Greenville County and previous Executive Leadership Team Member for March of Dimes: March for Babies. He was also elected to serve on the Vestry of Christ Church Episcopal. Williams and his wife Penn supported the formation of MAConnect, a program created to uplift the next generation of arts supporters in the Upstate. The two have three children: Annabell, Carter and Harris.