United Community Bank Awards $25,000 grant to Conserving Carolina
Hendersonville, NC – March 21, 2023 – United Community Bank is proud to donate $25,000 to Conserving Carolina for the Ecusta Trail development. United has been working with community organizers of the Ecusta Trail since the very formation of the plan, which is expected to be finished in 2027. The vision of Ecusta Trail is to convert an abandoned rail line into a new cultural main street, connecting communities from Hendersonville to Brevard. The goal is to promote health, enriching the quality of life, and the economy for everyone.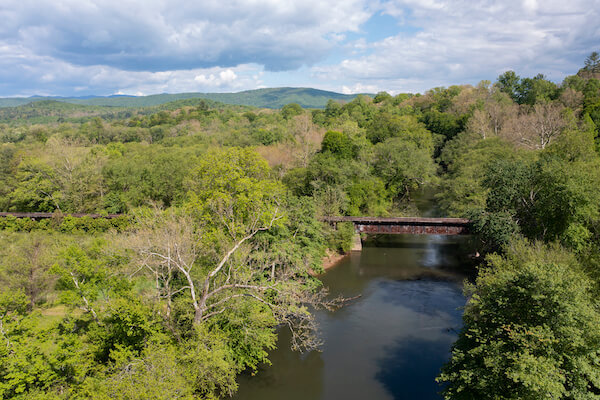 "The impact of Ecusta Trail, in many ways, especially business, trade and travel, will likely be the most significant catalyst to our local economy in my lifetime," said Fair Nabers Waggoner, City President of United Community Bank's Hendersonville branch.

Conserving Carolina was formed in 2017 with the merger of the Carolina Mountain Land Conservancy and the Pacolet Area Conservancy. After collaborating on conservation projects, the two land trusts united, merging their resources, knowledge, and expertise to elevate the impact and influence. The organization's mission is to protect, restore and inspire appreciation of the natural world.

"We are truly moved by the deep generosity of United Community Bank in supporting the Ecusta Trail with this leadership-level gift. It shows their dedication to a healthy and thriving community with more economic opportunity, more places for outdoor recreation, and better health for everyone. We hope that this donation will inspire more donors, so that we can meet our fundraising goal and build the long-awaited Ecusta Trail," said Kieran Roe, Executive Director of Conserving Carolina.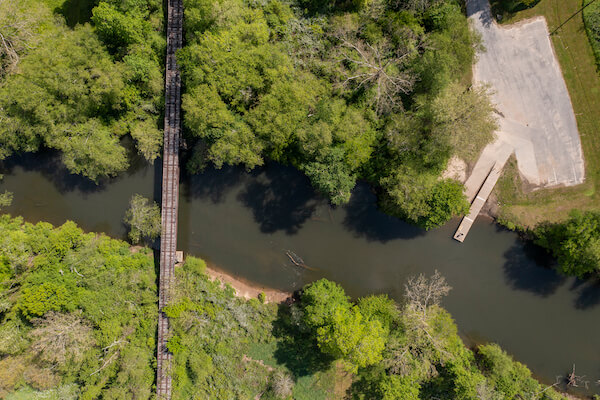 Previously, United Community Bank has sponsored several "friend raising" trail experiences for greater understanding and exposure and have joined forces with the Hendersonville Chamber of Commerce to organize intentional visits to existing rails-to-trails in surrounding areas, which include the Swamp Rabbit and Thermal Belt regions. These collaborative activities played a very positive role in moving the project forward by gaining support from local leaders, politicians, and government officials. Leaders from the respective communities also had the opportunity to share with guests what having a trail has meant within their community and provided a forum for questions with experts in all aspects of a rails-to-trails impact.

"In 2017, we hosted a Swamp Rabbit ride that ended in Downtown Greenville, at which point, we went to the United Community Bank Downtown Greenville conference room and had lunch, during which several leaders from Greenville shared their challenges and successes relating to the trail. All-in-all, these trips, sponsored by United, I believe, have been of incredible value, playing a role in not only educating and engaging many of the key community leaders," said Waggoner.

The Conserving Carolina partnership aligns with United Community Bank's economic empowerment pillar and the Ecusta Trail development will not only be a catalyst for small businesses but also be a significant tool in recruiting larger economic development projects. The impact has already been seen firsthand, with there being an absolute fevered pitch of small business activity underway, very specifically because of the trail. The trail is a phenomenon and an economic driver that will likely have one of the largest financial impacts on their community that they may ever see. The impact will not just be felt in Henderson and Transylvania counties, but also in the outlying surrounding communities.

You can learn more about the Ecusta Trail and get involved at conservingcarolina.org/ecusta


About United Community Banks, Inc.
United Community Banks, Inc. (NASDAQ: UCBI) provides a full range of banking, wealth management and mortgage services for consumers and business owners. As of December 31, 2022, United had $24.0 billion in assets and 192 offices in Florida, Georgia, North Carolina, South Carolina, and Tennessee, along with a national SBA lending franchise and a national equipment lending subsidiary. The company, known as "The Bank That SERVICE Built," has been recognized nationally for delivering award-winning service. In 2022, J.D. Power ranked United highest in customer satisfaction with consumer banking in the Southeast, marking eight out of the last nine years United has earned the coveted award. Forbes recognized United as one of the top ten World's Best Banks in 2022. Forbes also included United on its 2022 list of the 100 Best Banks in America for the ninth consecutive year. United also received ten Greenwich Excellence Awards in 2021 for excellence in Small Business Banking and Middle Market Banking, including national awards for Overall Satisfaction and Likelihood to Recommend. United was also named one of the "Best Banks to Work For" by American Banker in 2022 for the sixth consecutive year based on employee satisfaction. Additional information about United can be found at www.ucbi.com.


Photo Source: Ecusta Trail photographed by Real Digital Productions