United Community Names Evan Wyant Regional President for Central Florida
Posted on October 31, 2023
Orlando, Florida – United Community is pleased to announce industry veteran Evan Wyant will be stepping into the role of Central Florida President. He will lead United's commercial operations in the Orlando area, which includes Orange, Seminole, Lake, Osceola, Volusia, Polk, and Osceola counties.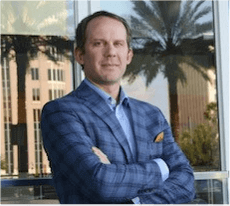 Wyant brings more than two decades of commercial and retail banking experience, most notably as Orlando market president for both Truist and BB&T, where he worked for more than 20 years. Orlando Business Journal named Wyant to its "40 Under 40" list in 2020 for his leadership during the SunTrust and BB&T merger to form Truist, while simultaneously helping clients through the challenging COVID-19 environment and PPP loan process.
"Evan's ability to stay nimble, communicate and build relationships with his clients, team, and community make him a stand-out addition to the United team," said Sharon Thompson, United's Florida President. "He brings a wealth of expertise, and a track record of excelling as a leader and we are thrilled to have him join our team."
Wyant is active in building community. He currently serves on the Board of Directors for Visit Orlando, the YMCA of Central Florida, Orlando Economic Partnership, and the Conductive Education Center of Orlando, which works to strengthen the quality of life for those with neurological motor disabilities. In addition, he is a member of the Board of Advisors for the University of Central Florida College of Business. He was also part of the 2019 inaugural class of Leadership Orlando.
"I am excited by the opportunity to work with Sharon and the rest of the team to build United's presence across Central Florida," said Wyant. "The Orlando region is expected to add 1,500 people every week for the next 11 years. We want to make sure everyone who lives, works, and loves being here sees United as a community bank they can depend on to help them succeed."
Wyant received his Bachelor of Science in Finance from Pensacola Christian College and is a graduate of the American Bankers Association Stonier Graduate School of Banking at The Wharton School of the University of Pennsylvania.
About United Community Banks, Inc.
United Community Banks, Inc. (NASDAQ: UCBI) is the financial holding company for United Community, a top 100 US financial institution that is committed to improving the financial health and well-being of its customers and ultimately the communities it serves. United Community provides a full range of banking, wealth management, and mortgage services. As of September 30, 2023, United Community has $26.9 billion in assets and 205 offices across Alabama, Florida, Georgia, North Carolina, South Carolina, and Tennessee, as well as a national SBA lending franchise and a national equipment financing subsidiary. United Community has been recognized nationally as a leader in customer service, financial performance, and workplace environment. Among the accolades, United Community is a nine-time winner of the J.D. Power award that ranked the bank #1 in customer satisfaction with consumer banking in the Southeast and was recognized in 2023 by Forbes as one of the World's Best Banks and one of America's Best Banks. United Community was also recognized by Newsweek in 2023 as one of the Most Trusted Companies in America, is a multi-award recipient of the Greenwich Excellence Awards and was named by American Banker as one of the "Best Banks to Work For" in 2022 for the sixth consecutive year. Additional information about United Community can be found at ucbi.com.