Arm yourself with knowledge to defend against online fraud.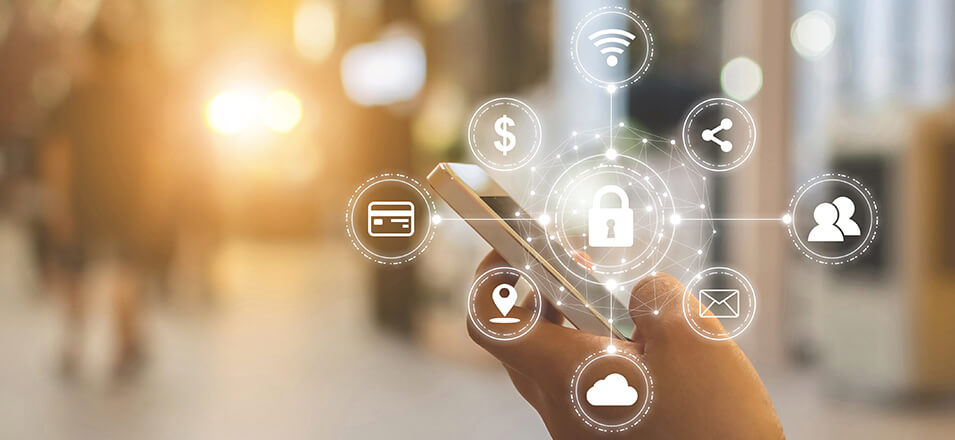 Protecting yourself from scam artists requires vigilance and knowledge about how criminals use phone, email, postal mail and the internet to access personal and financial information. International scam artists work tirelessly to defraud you at home and work every year. The Federal Trade Commission (FTC) and United Community Bank want to help you protect yourself with these steps you can follow to avoid scams.
Protect yourself and your business
Be careful about wiring money: When you wire money, especially overseas, it's nearly impossible to trace the money or reverse the transaction. Verify every recipient's legitimacy before wiring money to them. Don't wire money to strangers or to sellers who insist on wire transfers for payment. Once money is wired, it's gone.

Ignore messages seeking personal or financial information: No matter how professional the communication appears, never reveal this information. United Community Bank will never ask for you to send account or personal information through email. Contact us if you receive one of these messages.

Don't send money to strangers: Do business only with merchants you know and trust. If you purchase items online, use a credit card for added protection. Don't send cash and don't use a wire transfer service for these transactions.

Do not play a foreign lottery: These are illegal to play in the first place, but you'll also be asked to pay a tax or fee to collect your "prize." If you send the money, it's gone, and you won't get it back.

Do not agree to deposit a check from someone you don't know and then wire money back: If you deposit a check that turns out to be counterfeit, you're responsible for paying back the bank.

Monitor your bills and monthly statements regularly: Identity thieves can steal account information, run up charges and commit crimes in your name. If you see charges you don't recognize or didn't approve, contact United Community Bank or your credit card issuer immediately to dispute the transaction.

Donate money only to established charities: Avoid the charities that seem to pop up overnight following a disaster. The FTC provides more information about charity fraud.

Consult your doctor before buying health products or receiving medical treatments: Buy prescription drugs only from licensed U.S. pharmacies; otherwise, your products could be fake, expired, mislabeled and possibly dangerous. The FTC provides more information about health and wellness fraud.

There's no such thing as a sure thing: When you hear pitches insisting you act immediately, promise huge profits with little risk or demand cash payment now, report those people to United Community Bank or the FTC.

Know who's making you an offer. Get their physical address and phone number. Search online for information about the company and pay attention to any negative reviews. The Better Business Bureau can offer additional information.

Watch what you throw out: Some of your waste materials may contain personal or confidential information about you, your organization or your customers. Evaluate what you dispose of and shred any paper containing confidential information. Also, be sure to thoroughly "wipe" digital devices before you recycle or give them away.

Use appropriate business security controls: United Community Bank offers a variety of fraud prevention tools that help safeguard your business and financial information. We can help you assess your security strategy and activate the proper security controls on your accounts.

Adopt good internal security policies: Designate authorized employees to have access to banking passwords and materials and don't allow access to anyone else. Train your employees to keep this information confidential and warn them of common security problems such as phishing and online scams.
Protect your computer systems properly with antivirus software and other safeguards
Install an antivirus program: Using an updated antivirus program is vital. These programs scan for viruses trying to get into your email, operating system or files. Check your antivirus manufacturer's website frequently for updates.

Don't open emails from unfamiliar senders, or attachments you don't recognize: Viruses often are attached to emails and spread as soon as they're opened. It's best not to open any attachment you're not expecting to receive.

Use a pop-up blocker with your browser: Pop-up windows can contain malicious or unsafe code. A pop-up blocker can prevent some or all of these windows from appearing on top of the website you're viewing.

Keep your operating system updated: Look for special security updates available for your operating system that close possible security holes and help prevent viruses and other computer attacks.

Use a firewall: Firewalls help alert you to suspicious activity if a virus or worm attempts to connect to your computer. It can also block viruses, worms and hackers from attempting to download potentially harmful programs to your computer.

Use your browser's privacy settings: Be aware of how websites may use your private information and adjust your privacy settings to help prevent fraud and identity theft.

Turn on User Account Control (UAC): UAC notifies you when changes will be made to your computer that require administrator-level permission, giving you the opportunity to approve or deny the change. This feature can keep viruses from making unwanted changes.

Clear your internet cache and your browsing history: Most browsers store information about websites you visited and information you provided to those websites. You may want to delete some or all those sites from your history, especially if you're using a public computer.