Hurricane preparation guide–2020 edition
Posted on August 29, 2020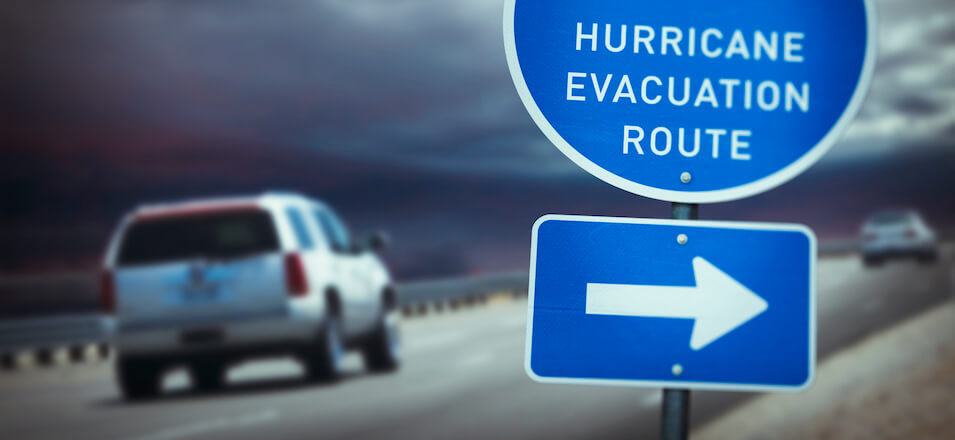 Even if you've lived in a region prone to hurricanes your whole life, dealing with an extreme weather event is still a stressful experience. Evacuation orders, power outages, flooding and more create a turbulent environment. Couple those variables with all of the changes COVID-19 has made to our daily routines and you have a recipe for chaos.

The good news is that preparation can help you navigate the literal and financial storm to minimize the damage done and reduce your stress levels while dealing with inclement weather.
Staying physically safe
First and foremost, heed the advice of local experts and pay close attention to forecasts and the path of the storm. Don't wait until the last minute to evacuate or make a decision to avoid getting stuck in a bad situation. In this case we say that fortune favors the smart, not the bold.

Unlike past hurricane seasons, staying safe also involves maintaining quarantine and all additional safety measures brought about by COVID-19. In your rush to evade the storm, don't forget to keep you and your family's health at the forefront of your mind.

Plan out your evacuation route and have a "go bag" prepared in case of an emergency. In your packing be sure to include:
Device chargers
Toiletries
Prescription medicines
Minimal clothing
Important documents (i.e. birth certificates, drivers licenses, marriage certificates)
Clean, bottled water
Non-perishable foods
Priceless or meaningful objects
Food or care items for pets

During a storm, be sure to follow all safety regulations and local guidance. Never try to drive or walk through flooded areas, steer clear of downed power lines and only return to your home when it has been deemed safe by local authorities. Remember, physical possessions can be replaced, you and your family's safety should always come first.

For more hurricane prep tips, click here to download FEMA's guide.
Stay financially safe
While your primary concern is likely your physical wellbeing during a storm, you don't want to be caught financially unprepared. The first and most important steps you'll want to take is enrolling in Online Banking and downloading our mobile app. This will ensure you have access to your accounts should your local United branch have to temporarily close due to inclement weather, or you evacuate to an area without a branch presence. You can also conduct many transactions over the phone by calling 1-800-UCBANK1 (1-800-822-2651).

Next, we recommend having enough cash on hand to get you through any emergency expenses during or directly after the storm. Click here to locate your closest branch or ATM. You can also add your United Community Bank debit or credit cards to your mobile wallet for increased accessibility.

If you need to access a branch during a time where your area is impacted by inclement weather, be sure to check our branch status page to ensure your local branch is open. You can also schedule an appointment. We keep an up-to-date list of any temporary branch closures here that you can reference at any time.

Finally, turn to your local banker if you need financial assistance after the storm passes. We are here to help you down the road to recovery should you be financially negatively impacted by a natural disaster.