Personal Finance Tips for Young Children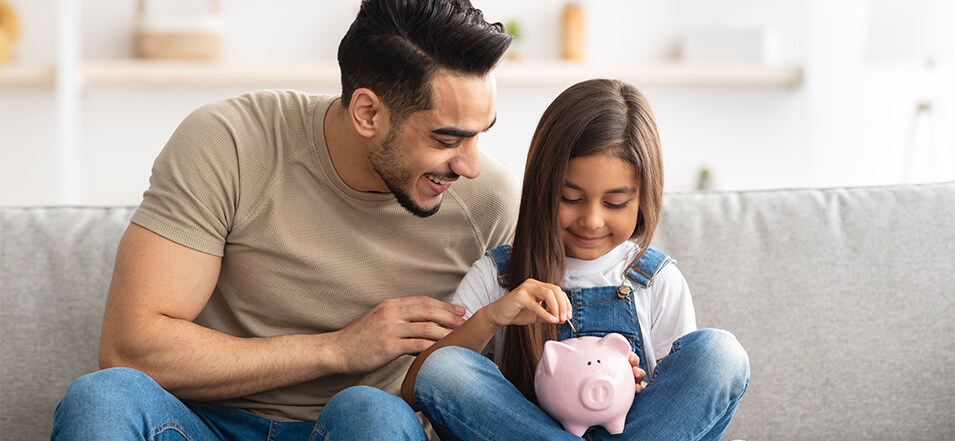 Key Takeaways:
Talk openly about money with your kids.
Explain the difference between wants and needs.
Let your kids earn their own money and set savings goals.
Provide a place to save.

It's never too early to start teaching your children about money. Lessons about saving, earning, and managing their money will follow them their entire lives and will set them up well for financial success in the future. Here are a few tips to help you get started teaching money at home:

Talk openly about money.
Though it may seem simple, talking openly about money with your kids will make a big difference. Communicate your values and experiences with money. Encourage them to ask you questions and be prepared to answer them — even the tough ones. The key is to keep the conversation going: if you want your kids to learn about saving, it's important to nurture an ongoing discussion.

Explain the difference between wants and needs.
A big component of saving, and doing it well, is learning to distinguish between wants and needs. This is a great thing to learn by doing—you can walk them through the difference in your own purchases, or if they want to buy something with their own money, explain how that will take away from anything bigger that they're saving for. Show them both the value of saving and budgeting and the consequences of not doing so.

Let them earn their own money.
Allowing your kids to earn and save their own money will provide them with a great opportunity (and stronger motivation!) to learn how to use it. To do this, you could set up a chore chart, give your children an allowance for completing their tasks, and require them to save at least a small portion each week.

Set savings goals.
Defining a savings goal that they can look forward to will make the reason for saving much clearer—and give them more motivation to do it. Help them pick a savings goal that's attainable but will take some time and effort to reach.

Set the example.
Be an example of a responsible money manager by paying bills on time and being a conscious spender and active saver. Children tend to emulate their parents' personal finance habits, so providing them with a good example will lay a powerful foundation for your kids' financial future.

Provide a place to save.
Encourage kids to set aside some of their money and provide a place for them to save. Open up a savings account at your local bank for your children and take them with you to make deposits, so they can learn how to be hands-on in their money management. This is a great way to expose them not only to savings but to banking in general and how the process works. At United, you can open a United Treasure Chest savings account for your children under 13. Click here for more information.



Source: American Bankers Association