Shopping safely online
Posted on November 29, 2022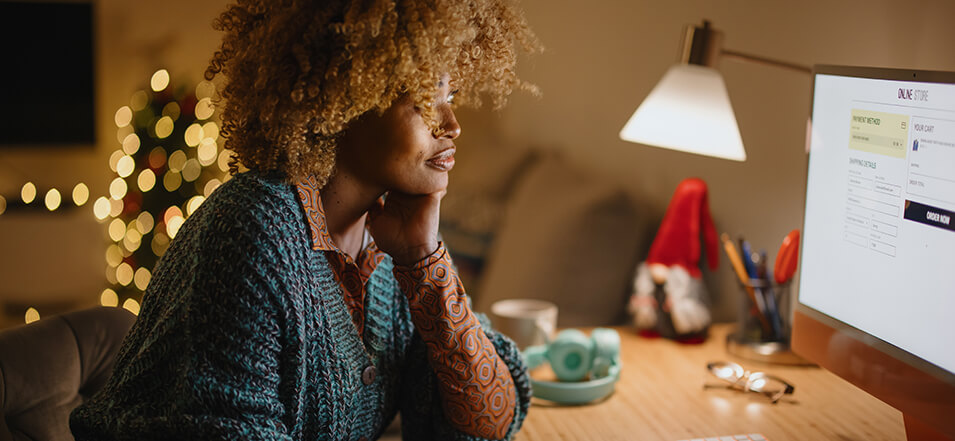 In the US alone, there are 2.1 million online retailers. It can be overwhelming to decide what to buy, much less to distinguish what retailers you can trust. Whether you're shopping online to avoid crowds or simply looking for an easy way to refresh your cold-weather wardrobe and browse for early Christmas presents, we have several steps you can take to protect yourself and your money online.
Stick with Brands You Know
Simply having a website does not mean a company is reputable. When using search engines, look at the spelling and grammar on their website. Common misspellings and poor grammar are all red flags, and it's a good idea to avoid websites with country specific domains unless you are specifically shopping for overseas goods. Online reviews can be a great place to start, but keep in mind not all positive "testimonials" may be legitimate. Be cautious of a large number of overly positive reviews which occur within a short time frame and then suddenly stop.
Look for the Lock
Never buy anything online from a site that doesn't have Secure Socket Layer (SSL) encryption. You will know if the site has SSL because the URL begins with 'https', rather than 'http'. The 's' at the end indicates the site is secure. If you see a padlock symbol displayed in the website address bar, it also indicates that the site is encrypted.
Don't Tell All
Be careful not to share more information than is needed. No online shopping site needs your social security number or birthday to complete a transaction. Avoid sending your credit or debit card details to anyone via email. Although it makes it very convenient to make repeat purchases, it is worth unchecking any option in your purchase process that allows the retailer to store your card details.
Keep Your Devices Up to Date
Make sure to run anti-virus and malware scans regularly. Check for updates to your operating system and ensure apps and browsers are kept up to date with the latest version. Continually update and always use strong, unique passwords for each online store where you make purchases. If you haven't changed your password for an existing account in some time, it would be a good idea to do that now.
Add Buyer Protections to Your Payment Methods
With the enhanced security features available today with your United Community debit card, you have added layers of protection. You can place limits on spending, sign up for text alerts, and temporarily lock your card if you misplace it with Card Controls.
In addition to setting spending limits on your debit card, you can set up a small dollar account that you use exclusively for online shopping. That way, if the worst happens, your main account and funds aren't impacted.

Have questions about other actions you can take to protect your money? We're proud to offer financial support, education, and guidance to our community. Access our online Learning Center or schedule an appointment with your local banker to take the first step.